You could be forgiven for thinking that 2014 has been and gone rather too quickly.
As the year 2015 rapidly approaches, we've decided to take a quick look ahead to make a few predictions and observations for the coming year.
Social Media is playing more of an integral role in people's lives, so it continues to become a key pillar in the marketing strategy of most brands. Here are our top tips to consider as you take your brand into a fresh year.
1.  Instagram – Playing with the grown ups now
Towards the end of 2014, Instagram announced that it had reached a staggering 300 million Monthly Active Users. This is 16 million more than Twitter currently claims to have. In 2014, the picture-sharing app has rolled out their first sponsored posts from big brands, as well as starting to verify accounts of athletes, teams, celebrities, bands and brands. The recent #Instapurge saw millions of previously deactivated spam accounts finally get deleted – decimating the follower count of brands, celebrities and average Joes alike.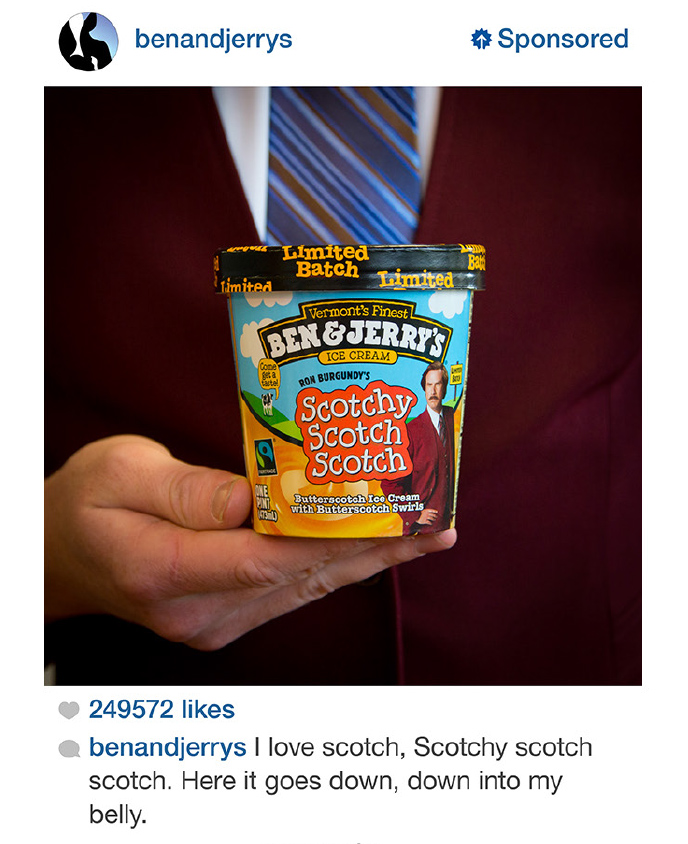 Instagram's visual-first content style grants it a higher engagement rate than Facebook and Twitter. It's hardly an insider secret anymore: Instagram is a key platform for many people. Your brand should consider the role it has to play in your marketing strategy.
 2. Social Networks will work like wallets/retail points
Facebook has a hidden feature in its messenger app that would, if activated, allow its 200 million users to transfer money with their friends with a registered debit card. We've seen this feature take baby steps in the form of SnapCash and texting money to your contacts through bank apps like Natwest and RBS.
Some are suggesting that Facebook intends to branch into the financial sector to rival major credit card companies. Or they could just be looking to stay competitive with the likes of Twitter and Apple, who both announced plans to incorporate real-life purchases with their user experience. Twitter's Buy button and Apple Pay both show the potential for social media and digital tech to replace that square of leather in your pocket.
Social media users are reluctant to leave the platform to shop. The advantage of this step in digital store-fronts is that it defeats this problem by bringing the product to them.
 3. Google+ will continue to diminish
The irony of the demise of Google+ is that it is a fantastic tool. The fact that so many of your online habits are connected to Google – be it your Gmail, your YouTube account, the Google Drive at work, your search history or the fact that you prefer Chrome to Firefox, Safari or Internet Explorer – means that Google+ is a hub for your details online. It just hasn't done the job of making people connect with each other. Following the departure of leading Google+ advocate Vic Gundotra and the failure of Google Authorship, 2015 might just see Google+ admit defeat.
4. Nothing does real-time like social media
There were more than enough events this year that deserved an instantaneous response. Some events, like the FIFA World Cup and the Oscars, were predictable enough to get prepared for. That being said, responses to the infamous Suarez-Chiellini bite incident and Ellen's viral Tweet prove that being prepared isn't always the answer. The iPhone 6 "Bendgate" provided brands the chance to take a swing at the goliath that is Apple, while the announcement of another royal pregnancy was rich in opportunities for brands like Volvo and (bizarrely enough) Pizza Express to engage current events. Be careful, though, not to be predictable or over-complicated; good parody is simple and original.
Whatever the web is talking about, these trending conversations are opportunities for your brand to reach out and engage new audiences and loyal fans. Make the most of them.
5. Short video marketing is essential
Instagram videos are capped at only 15 seconds. Vines are capped at 6.2 seconds. The attention span of people online is smaller than ever – nearly 50% smaller than ten years ago – so your video content has to be short and succinct.
Facebook's native video player has started to match YouTube, prompting the introduction of auto-play across the board. Facebook has openly admitted to focussing on video ads in 2015, as Twitter introduces promoted video ads. The average person will need to be engaged in seconds; some brands are getting it right. Are you?
Over To You
What do you think? What are your predictions for 2015?