For any social media campaign, a definitive hashtag is a must have.
A snappy, witty or on-brand hashtag provides a centre of gravity for your campaign, making the campaign as a whole more memorable and more sharable.
Hashtags are also a great way to integrate your campaign in the real world. In 2014, 71% of social media users logged on using a mobile device. Using the hashtag on television and out-of-home adverts makes your brand accessible.
As part of a likeable campaign, a quality hashtag gives you a means to monitor and engage with an active audience. Every time someone uses your hashtag is an opportunity to start or join a conversation.
With this in mind, we've taken a look at some examples of brands using hashtags.
The Good
In August 2014, a Google search for Greggs, the largest bakery chain in the UK, produced an unusual result. The image showing next to the company's description was not the official logo. Far from it.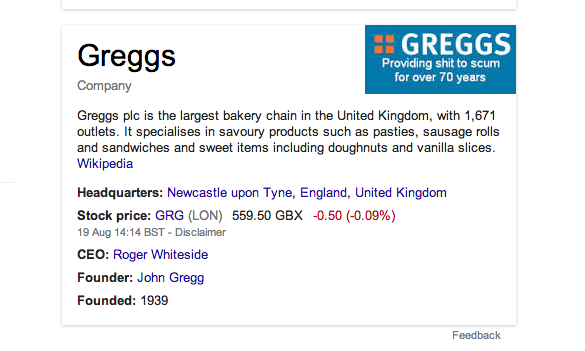 The brand were alarmed, but made the most of the situation. After raising the issue with Google, the brand leveraged the hashtag #FixGreggs to draw attention to their plight. As the tag trended, the process for correcting the image was hastened and the brand spun a potentially toxic scenario in their favour.
American frozen pizza company DiGiorno found success with #DiGiorNOYOUDIDNT. The popular and well received tag was the work of  their marketing agency, Resource, and was aimed at the smack-talk Twitter dialogue surrounding the NFL, with the intent being to reach new audiences.
As part of their collaboration with MTV, Pepsi utilised rival hashtags (#DarkHorseNow or #WalkingOnAirNow) to encourage fans of Katy Perry to vote for which single should be released next. This campaign put power into the hands of Katy and Pepsi's fans, as well as fuelling Pepsi's association with popular music. Tweeters who had also signed up for Pepsi's loyalty scheme were rewarded with a free iTunes download, furthering brand affiliation.
Dominos #LetsDoLunch campaign was simple but brilliant. The price of a pizza of the day was reduced depending on how many people tweeted the brand with the hashtag between 9am and 11am. – in time for lunch. The reduced price pizzas could then be ordered between 12pm and 3pm.
The Bad
An example of bashtagging – when an audience that your brand might not have been targeting takes control of your hashtag – is McDonald's #McDStories. Intended to give their customers a place to share their stories about meals and memories, the tag was usurped by people sharing stories about the ill-health and poor quality associated with the brand's products. For example:

This is a perfect case for preparing for the worst. You can never know when your perfectly crafted hashtag will be overrun by trolls or a disgruntled audience, so it's always necessary to know your plan B.
In a similar scenario, Waitrose fell victim to a sarcastic and satirical bombardment when they launched the hashtag #WhyIShopAtWaitrose. Another campaign designed to endear their mostt loyal Twitter-using customers, the result was a feed that lampooned the brand's position in the marketplace.
(On a tangent, Overheard In Waitrose is well worth a visit!)
In a case of sheer word blindness (ahem…), the launch party for Susan Boyle's 2012 album was overshadowed by the viral hashtag that was tweeted:
Even though it only appeared once and was swiftly deleted, the tag #Susanalbumparty was even covered by the national presses. There were calls of deliberately making the "mistake" for publicity, though this has been denied.
In a slightly different example, DiGiorno slipped up when they joined in with conversation around an existing hashtag without doing their homework. The brand joined in with the trending tag #WhyIStayed – the focus of conversation regarding domestic abuse – with the following tweet.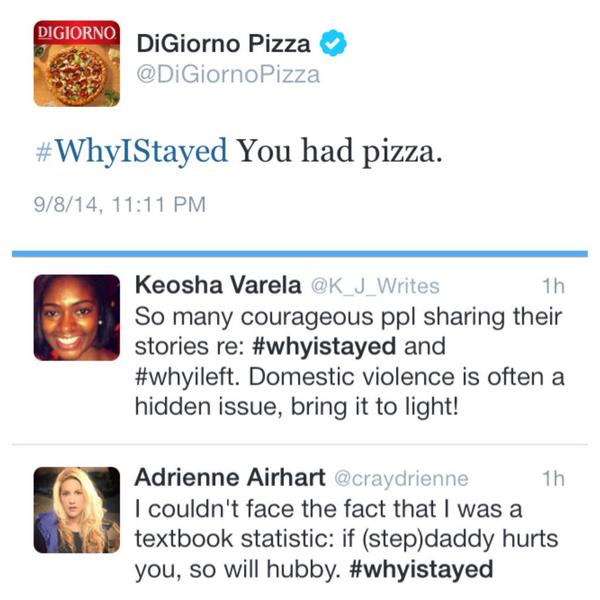 They failed to understand the context of the discourse and subsequently deleted the offensive tweet, replacing it with a "sincere apology". The lesson here is to do your research before presenting your brand to a hashtag driven audience.
And The Unpredictable
Sometimes, for better or for worse,  a hashtag comes about organically that gains notoriety.Once a hashtag is created, it is out of your control. If things go bad, there's nothing you can do to stop it. A prime example of this is the recent rise of #FoxNewsFacts. From a copywriter's perspective, that is catchy; it's short, sharp and to the point. In context, its irony has helped propel it to over 355,000 mentions across the web in 4 days. Borne on the back of wildly inaccurate comments from "Terrorism Expert" Steve Emerson regarding Muslims in Birmingham, UK, the initial backlash across twitter was ranged from satirical to classic internet humour.
#Muslims are controlling the weather in Britain. In some places it's Sunni, but mainly Shi'ite. #foxnewsfacts pic.twitter.com/fXzpIPXofa

— Ahmad Fraz (@Ahmad_Fraz9) January 12, 2015
As a non-Muslim I wasn't sure how I was going to get to work in #Birmingham today #foxnewsfacts pic.twitter.com/YusmGb3pdo — Toby Rackliff (@tobythetram) January 12, 2015
Even David Cameron branded Emerson a "complete idiot".
Over To You
What do you think? Have you got any good, bad, or unexpected hashtag stories?
Value stats